This is a meme hosted by
Breaking the Spine
where every Wednesday bloggers highlight a book that they are eagerly anticipating the release of!
The Unexpected Everything
Release Date: May 3, 2016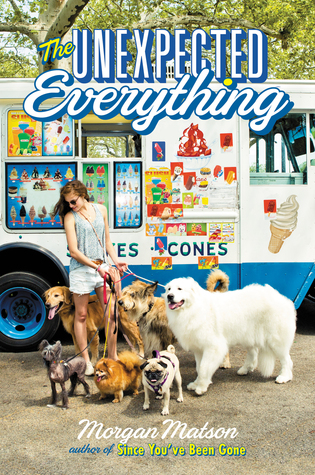 Andie had it all planned out.
When you are a politician's daughter who's pretty much raised yourself, you learn everything can be planned or spun, or both. Especially your future.
Important internship? Check.
Amazing friends? Check.
Guys? Check (as long as we're talking no more than three weeks)
But that was before the scandal. Before having to be in the same house with her dad. Before walking an insane number of dogs. That was before Clark and those few months that might change her whole life.
Because here's the thing - if everything's planned out, you can never find the unexpected.
And where's the fun in that?
-----------------------------------------------
The only Morgan Matson book that I've read is
Second Chance Summer,
which is definitely a more serious YA contemporary read. I know she also writes some more light
romances
and this one looks to be just that. I mean, just look at the cover! And the main character's job is to walk dogs. That's awesome! This book sounds like it's going to be quirky
and
I can't wait to see how it turns out!