Claimed (Outlaws #1)
By Elle Kennedy
Release Date: October 6, 2016
Source: Publisher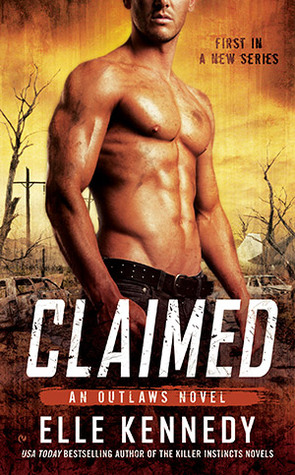 After a devastating war decimated most of the world, Hudson Lane has only known the oppressive life under her own father's tyranny. She finally escapes, branding herself an outlaw and hunted by the Enforcers. Her best chance at survival is Connor Mackenzie, an aggressively sensual fugitive who opens her eyes to the wicked possibilities of a world without rules.
As the leader of a band of outlaw fighters, Connor can't resist the beautiful stranger who asks for his protection. Despite his reservations, he agrees to introduce her to a whole new way of life. But when Connor discovers Hudson's connection to the enemies of liberty, he wonders how far he can trust the woman who has abandoned all inhibitions to challenge every forbidden desire.
I say this for every single review I write for Elle Kennedy, but no matter what genre she writes in, she's going to write a book full of some serious heat, great characters, and a story you won't be able to put down.
After war took out most of the world, a new system is put into place where those in charge thrive and the rest are left to fend for themselves. Hudson has lived under her father's thumb long enough, so she decides to escape and finds herself in the world of the outlaws. The only way she can survive, though, is by joining Conner Mackenzie's band of outlaws. Conner hates the way he feels when Hudson is around, especially since it seems to be messing with his ability to think straight as he finds himself allowing her to come back to their camp. He doesn't know where Hudson came from, but he knows she's from the city and has to question if he can think with his head without letting his lust get in the way.
Holy moly. Many of Elle's books are steamy, but this one is Steamy with a capital S. Some other reviews say that they think this book had too much sex, but with the attraction and lust between Hudson and Conner, I didn't know how they could even keep their hands off of each other! I loved their chemistry and how much Conner hated his limited control when he was around Hudson. He's a man who needs to be in control, so I loved seeing someone like Hudson have that effect on him.
As a post-apocalyptic book, I loved the world that Conner and Hudson lived in. Hudson's past was quite the secret she was keeping and she couldn't tell Conner for a VERY important reason. You knew that it would come out eventually and just had to wait for that bomb to blow up. Ah. There was also some action, which I always love in books. Oh, and as the first book of a new series, I could see Elle setting up secondary characters that are for sure going to get their own books later on in the series. I loved all of the characters and how they interacted with Hudson. I can't wait to see their stories!
Elle Kennedy outdid herself again with this lust-filled, post-apocalytpic ride. The world was easy to get lost in and Conner and Hudson's chemistry sizzled through the pages. I would definitely recommend this to any Elle Kennedy fan! And if you haven't read anything by her yet, go grab one of her books right now!