Maybe Not (Maybe Someday #1.5)
By Colleen Hoover
Release Date: November 24, 2014
Source: Barnes and Noble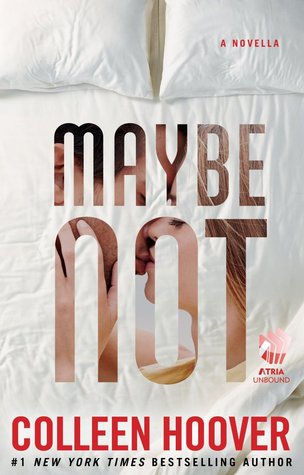 When Warren has the opportunity to live with a female roommate, he instantly agrees. It could be an exciting change.
Or maybe not.
Especially when that roommate is the cold and seemingly calculating Bridgette. Tensions run high and tempers flare as the two can hardly stand to be in the same room together. But Warren has a theory about Bridgette: anyone who can hate with that much passion should also have the capability to love with that much passion. And he wants to be the one to test this theory.
Will Bridgette find it in herself to warm her heart to Warren and finally learn to love?
Maybe.
Maybe not.
Geez Louise, Colleen Hoover sure does know how to pack a lot of emotion, heat, and entertaining banter into only 120 pages. Maybe Someday is my absolute favorite novel of Colleen's, so I made sure to grab a copy of the novella as soon as it was released in paperback.
Warren is the kind of guy who really loves women, so when one moves into the room that adjoins his bathroom at the apartment he shares with his best friend Ridge, he finds himself pretty darn excited. Too bad Bridgette seems to not like him or anyone else on planet earth with her cold and hard demeanor. The more Warren persists, though, the more Warren starts to see through Bridgette's seemingly mean personality. Bridgette has gone through too much to let someone like Warren in, but with his irresistible wiles, she finds it harder and harder to resist.
Oh goodness, this story. One thing I love in my romances is some good old banter. When two people who have insane chemistry bicker like crazy, I am always so entertained and love how they don't just jump into each other's arms all lovey dovey. Warren and Bridgette were so fun to watch as they fought and played pranks on each other. Bridgette tried to act mean and hard-edged, but all she needed was someone to show her that not everyone is out to hurt her.
Unlike some of Colleen's books, this novella was definitely on the steamier side. There's no denying the attraction between Warren and Bridgette and the moments they give into each other are on fire. Whew. I loved being able to see what was going on behind closed doors and how Bridgette and Warren's relationship progressed, especially with how hard Bridgette was portrayed in Maybe Someday.
As usual, Colleen Hoover delivered an emotional (though not quite as emotional as Maybe Someday), hot, and comical story that kept me reading from beginning to end. I read this book in two sittings and it made me miss Sydney and Ridge's story so much more. That book is definitely due for a reread soon because I just love that world and it's fun, lovable characters. And now that I have Warren and Bridgette's story, it'll be fun to see them as secondary characters again with the knowledge I have now. Everyone who has read and loved Maybe Someday has to pick up Maybe Not to see another special, steamy piece of the story we all loved.