Gods and Monsters
by Saffron A Kent
Release Date: February 22, 2018
Source: Author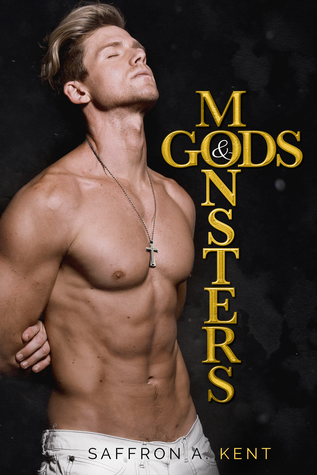 He was an artist. She was his muse.
To everyone in town, Abel Adams was the devil's spawn, a boy who never should have been born. A monster.
To twelve year-old Evie Hart, he was just a boy with golden hair, soft t-shirts and a camera. A boy who loved taking her picture and sneaking her chocolates before dinner. A boy who made her feel special.
Despite her family's warnings, she loved him in secret for six years. They met in empty classrooms and kissed in darkened church closets. Until they couldn't.
Until the time came to choose between love and family, and Evie chose Abel.
Because their love was worth the risk. Their love was the stuff of legend.
But the thing about legends is that they are cautionary tales. They are made of choices and mistakes. And for Abel and Evie, the artist and the muse, those mistakes come in the form of lights, camera, sex.
Even after some time has passed since I finished this book, I am still so conflicted over my feelings about this book. I was excited to read this forbidden romance from Saffron Kent, but it took a turn I definitely wasn't expecting.
The moment Evie Hart sees Abel Adams get out of the truck at the house next door, she's enthralled. She can't stop thinking about the boy who is blonde and beautiful. She soon learns, though, that he is the result of a scandal that rocked the town years ago that no one has forgotten. But Evie finds herself drawn to Abel even more and the two are led down a path neither of them can leave.
Starting out this book, I was sucked in. This town is super small and felt almost like a cult where they all disapproved of Abel, especially Evie's mom. Of course I loved the forbidden romance, but as soon as we got to the middle of the story when Evie and Abel were older, things took a turn that I was definitely NOT expecting. And I wasn't sure how I felt about it. I started to become really annoyed with Evie and Abel over the reasons behind their decision. I get that they were still pretty young and didn't really know any better, but I hated the reasons why they chose to do certain things they did.
As the story went on, the tone of the story changed drastically and it was hard for me to finish the book. Like I said, I was annoyed with the reasons behind how the characters were acting and it was obvious that some characters were keeping secrets. It was frustrating how naive Evie was and I wanted her to wake up and see what was going on right in front of her eyes.
If you can't tell, this book ended up being a frustrating read for me. While the characters kind of redeemed themselves for me by the end, I still could not forget how annoyed I was for a good majority of this book. I loved the beginning of this book when Abel and Evie were falling for each other, but it felt like an entirely different book when the halfway mark hit.