Blood Type (Blood Type #1)
by KA Linde
Release Date: April 24, 2018
Source: Publisher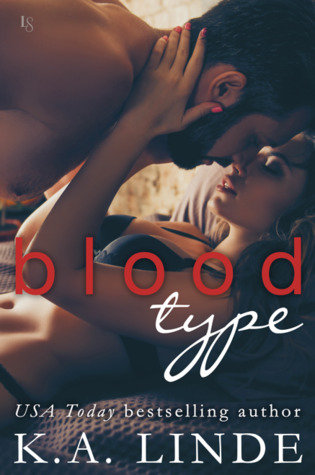 A startling new vision of paranormal romance: When a human ventures into the world of vampires—a decadent milieu of blood-bonds and betrayal—she discovers that not all is what it seems.
For Reyna Carpenter, giving up her body isn't a choice. It's survival.
In a civilization laid waste by poverty and desperation, Reyna accepts a high-paying position with the wealthy and hungry vampire elite. Her new job is as the live-in blood escort for the intimidating, demanding, and devilishly handsome Beckham Anderson. He's everything she expected from a vampire, except for one thing—he won't feed off her.
Reyna soon discovers that behind Beckham's brooding, wicked façade lies a unique and complex man. And that, in a dark and divided world, she is more valuable than she ever would have believed.
For with each passing night, Reyna can't shake the sensation that it's Beckham who's afraid of
her
.
I have been craving a good vampire romance lately, so when I saw that KA Linde was coming out with a new paranormal romance series, I was all for it. I couldn't wait to dive into a world of vampires and mayhem.
Reyna Carpenter has spent years feeling useless as her brothers work themselves to the bone every day to provide for the family. Because of the way society has fallen since the vampires have risen in power, it's been impossible for Reyna to go to college, which means it's impossible for her to get any sort of job. Feeling desperate, Reyna signs up to be a part of the humans who serve the wealthy, elite vampires. When she's assigned to Beckham Anderson, she finds herself in a world of luxury, danger, and a whole lot of mystery.
When this book started, I was really intrigued by the world Reyna was living in. Vampires were of the wealthy, upper-crust section of society and Reyna was going to have to be the personal blood supply for a wealthy vampire in order for her to make the money her family so desperately needs. The dynamics of the society was very interesting and I appreciated how I hadn't read a vampire book like that before. When it came to the relationship and the secrets the characters had, I was a bit let down. The secrets/plot twists that came at the end were very predictable and I found myself just moving through the story to get through the end.
As for the romance, I was not as intrigued with Beckham as I think the author wanted me to be. Like I said before, his character was pretty predictable, especially behind why he was so dark and brooding and dangerous around Reyna. There were some pretty random things thrown in that Beckham and Reyna have to do together and the plot didn't really flow as seamlessly as I would have liked. There was a lot this book was trying to be and I don't think it achieved what it set out to.
Overall, this was a unique vampire novel, but I think it was too predictable for my taste. I did enjoy Reyna's character and how she was pushed into a world that had scared her and that she knew nothing about. From the beginning, though, I knew exactly who to trust, who not to trust, and the secrets most of the characters were hiding. I'm not sure if I want to pick up book two when it comes out, but this one was just an okay read for me.