Checkmate: This is Reckless (The Checkmate Duet Series #1)
By Kennedy Fox
Release Date: February 28, 2017
Source: Author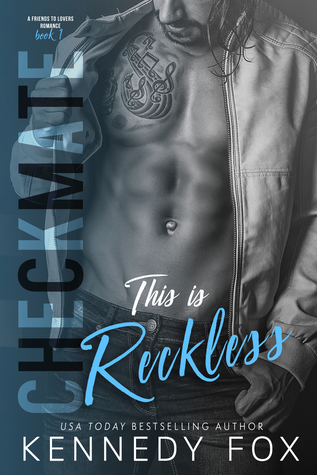 Introducing book 1 in the new Checkmate Duet Series from a secret duo of bestselling authors! This friends to lovers romance will have you swooning and laughing from the first to the last page! Are you ready to play the game?
Drew Fisher is the type of guy every girl wants.
Noble police officer by day, charming prince by night.
He has no idea the effect he has on women, especially me—his little sister's best friend.
I'm the blonde Southern belle who lives up to the cliché, except I have my own quirks. I'm smart as a whip, can change my own oil, and recite The Pledge of Allegiance backward, but he doesn't see
that
girl.
It'd be easier to forget him if he wasn't my roommate and if the first thing I saw in the morning wasn't his shirtless body covered in tattoos. I've crushed on him since the day we met, but he's made it perfectly clear where we stand.
Just friends.
I know I need to move on and accept that his feelings will never be mutual, but every day he smiles at me, I'm left dreaming of
what if.
He has girl issues, and I've got a crush I can't deny.
We're friends, but I want
more.
One drunken hookup leaves us with much more than a platonic friendship. Pretending it never happened proves to be more difficult than anticipated.
A crazy ex-girlfriend, a dangerous war of stolen glances, and passionate kisses leads to the most reckless battle yet. I won't be a pawn in his game, but I'll play by his rules if it will show him I'm the one worth breaking them for.
Checkmate,
Prince Charming.
I absolutely love the Checkmate series by Kennedy Fox and ever since we got to see Courtney pining after Drew in This is Love, I couldn't wait for their story. As much as I loved Viola and Travis, I was dying for my hot cop romance.
Courtney has had a crush on Drew from the moment they met, but Drew has never seen her as anything except for a friend. Not to mention Drew is still with his on again/off again girlfriend Mia. After living as roommates for two years, Courtney doesn't know how much longer she can take waking up to Drew's gorgeous body roaming around their apartment. They are pretty much each other's best friends and couldn't imagine life without each other, but one drunken night tests their relationship and everything Drew thought he knew about Courtney…
Oh my gosh, this book. In the beginning of this book, we get an event that totally throws Courtney and Drew's relationship for a loop, then it backtracks to months before. We know this event as readers and are dying to see how Courtney and Drew get to that point. I absolutely loved Courtney's character and her friendship with Drew. They had such a cozy and safe relationship and I really loved how they were really great friends. Of course, Mia is SO ANNOYING and the girl we all love to hate throughout this whole series. You just want to reach through these pages, smack Drew across the head, and show him what's been in front of him this whole time (aka Courtney).
Once Drew started to notice Courtney in a way you shouldn't see a best friend, things started to get so fun and adorable. I loved how Drew was so thrown off by his emerging feelings for Courtney and how excited I got for Courtney. Courtney's hot cop fantasies were so close to coming true and all of her pining would finally be reciprocated. As with the previous books in this series, the pacing in this book was just okay to me. Part of this book is our couple realizing their feelings for each other and part of this book is our couple trying to make it work. I was just waiting for the bomb to drop just like it did in Travis and Viola's story and I wish it was something more…unique? I still loved the ending and how freaked it made me, but I feel like it was a whole "been there, done that" ending.
In the end, this was another addicting and fun read from Kennedy Fox. I loved Drew and Courtney even more than I thought I would and I cannot wait to read the next book in their story! If you haven't read anything by Kennedy Fox yet, you are seriously missing out!