This is a meme hosted by
Breaking the Spine
where every Wednesday bloggers highlight a book that they are eagerly anticipating the release of!
Roman Crazy
By Alice Clayton and Nina Bocci
Release Date: September 13, 2016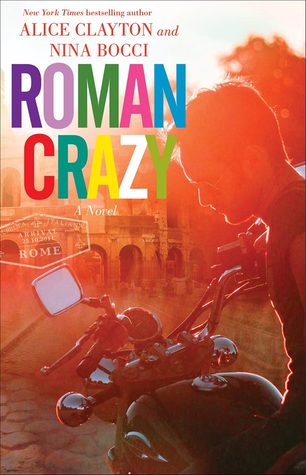 Avery Bardot steps off the plane in Rome, looking for a fresh start. She's left behind a soon-to-be ex-husband in Boston and plans to spend the summer with her best friend Daisy, licking her wounds—and perhaps a gelato or two. But when her American-expat friend throws her a welcome party on her first night, Avery's thrown for a loop when she sees a man she never thought she'd see again: Italian architect Marcello Bianchi.
Marcello was
the
man—the one who got away. And now her past is colliding with her present, a present where she should be mourning the loss of her marriage and—hey, that fettuccine is delicious! And so is Marcello…
Slipping easily into the good life of summertime in Rome, Avery spends her days exploring a city that makes art historians swoon, and her nights swooning over her unexpected
what was old is new again
romance. It's heady, it's fevered, it's wanton, and it's crazy. But could this really be her new life? Or is it just a temporary reprieve before returning to the land of twin-set cardigans and crustless sandwiches?
----------------------------------
A couple of weeks ago, I was seeing early copies of this book all over Instagram. I had no idea that Alice Clayton had a new book coming out, so I was definitely intrigued. I loved Alice's witty characters and laugh-out-loud stories, so I rushed to Goodreads and added this one to my to-read list ASAP. The first thing that I'm excited about for this book is definitely that it takes place in Rome. Any book that has to do with travel is a must-read for me. Then, the romance sounds so fun and I cannot wait to see how Avery deals with starting over with a man she has quite the history with.