This is a meme hosted by
Breaking the Spine
where every Wednesday bloggers highlight a book that they are eagerly anticipating the release of!
Release Date: November 10, 2015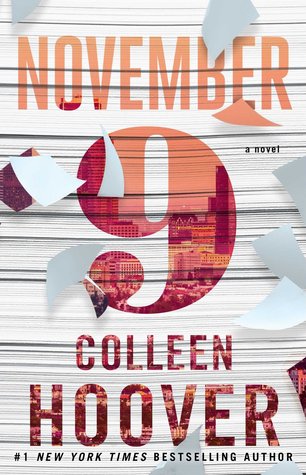 Fallon meets Ben, an aspiring novelist, the day before her scheduled cross-country move. Their untimely attraction leads them to spend Fallon's last day in L.A. together, and her eventful life becomes the creative inspiration Ben has always sought for his novel. Over time and amidst the various relationships and tribulations of their own separate lives, they continue to meet on the same date every year. Until one day Fallon becomes unsure if Ben has been telling her the truth or fabricating a perfect reality for the sake of the ultimate plot twist.
IT'S A COLLEEN HOOVER BOOK. ABOUT A WRITER. Wow. I have been dying to read this book ever since I heard about it and I cannot wait for it to come out. I love books about writing,
so the fact that this is about a guy who meets a girl, spends an amazing day with her, and writes his best story about her has me so intrigued. Is their relationship really as great as they think it is? Or is it just all in their heads? November 10th can't come soon enough!