Holding Up the Universe
By Jennifer Niven
Release Date: October 4, 2016
Source: Publisher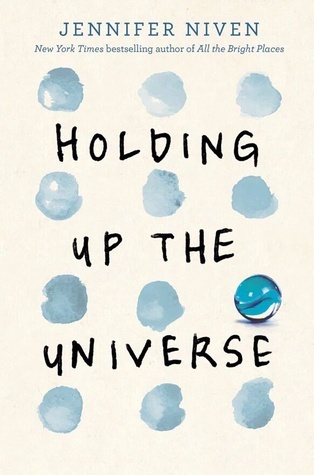 Everyone thinks they know Libby Strout, the girl once dubbed "America's Fattest Teen." But no one's taken the time to look past her weight to get to know who she really is. Following her mom's death, she's been picking up the pieces in the privacy of her home, dealing with her heartbroken father and her own grief. Now, Libby's ready: for high school, for new friends, for love, and for EVERY POSSIBILITY LIFE HAS TO OFFER.
In that moment, I know the part I want to play here at MVB High. I want to be the girl who can do anything.
Everyone thinks they know Jack Masselin, too. Yes, he's got swagger, but he's also mastered the impossible art of giving people what they want, of fitting in. What no one knows is that Jack has a newly acquired secret: he can't recognize faces. Even his own brothers are strangers to him. He's the guy who can re-engineer and rebuild anything in new and bad-ass ways, but he can't understand what's going on with the inner workings of his brain. So he tells himself to play it cool:
Be charming. Be hilarious. Don't get too close to anyone.
Until he meets Libby. When the two get tangled up in a cruel high school game—which lands them in group counseling and community service—Libby and Jack are both pissed, and then surprised. Because the more time they spend together, the less alone they feel. . . .
Because sometimes when you meet someone, it changes the world, theirs and yours.
When All the Bright Places came out, Jennifer Niven found huge success and readers loved how real and relatable her book was. When I read the synopsis of Holding Up the Universe, I knew that it was a book that I definitely did not want to miss out on.
Named America's Fastest Teen, Libby Strout can never live an anonymous life. After losing half her weight, though, people are still only seeing her for her size and not her eccentric, loving personality. Libby is more than ready to start high school for the first time and finally have friends and live a normal life. Jack Masselin knows how to rule high school, yet no one really knows anything about Jack, especially his secret condition where he can't actually recognize anyone in his life, even his own family. Jack has kept his distance from people at school and put on the cool, composed facade for everyone he knows. When he meets Libby, their lives intertwine and they find themselves oddly trusting each other when they shouldn't want anything to do with one another. The more time they spend together, the more they realize that there are other people out there struggling to just be who they want to be in a world where you have to be who everyone else says you are.
Wow, this book was so interesting. I mean really interesting. I think this is the first book where I actually went online and googled more information about what the characters went through. Jack suffers from a condition called Prosopagnosia, or face blindness. He literally cannot identify anyone he knows and has to rely on other identifiers, like clothes and hair to know who he is talking to. Jack was just so helpless with his condition and my heart broke for him. Here was a guy who looked like Mr. Popular, but was actually one of the loneliest people in the world. No wonder he found comfort in talking to someone like Libby, who was just as lonely as he was.
Libby was such an eccentric character and I absolutely loved her. Libby is a very large girl, but she has not let that stop her from anything. Her optimism towards high school was so heartbreaking because, with our world today, I knew that she wouldn't get the fresh start she wanted. Libby faced some pretty nasty bullies in this book, which made me so so sad, but I loved how fearless Libby tried to be in standing up for herself and letting everyone know that she would live her life the way she wanted to. Her relationship with Jack was so unconventional, but I loved how so wrong yet so right they were together and how they encouraged each other to be themselves.
This book was such a quick read with the short chapters and fascinating characters and I just couldn't get enough of it. It was clear how much time and research went into these characters and I loved the complexity of this story. Holding Up the Universe is one of the most unique, lovable, and broken stories I have ever read. If you want a book that is unlike anything you've read with a heart wrenching lesson about acceptance, you have to pick up Holding Up the Universe.