Not So Nice Guy
by RS Grey
Release Date: August 9, 2018
Source: Author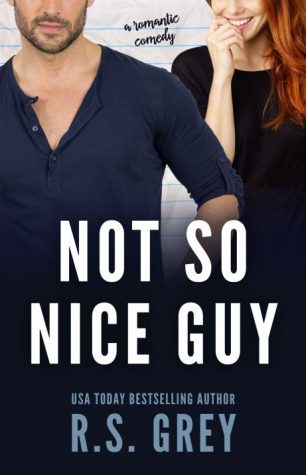 "Oh my god. Who that?"
I get asked this question a lot.
"Oh him?" I reply. "That's just Ian."
Just Ian is the biggest understatement of the century.
Just the Mona Lisa. Just the Taj Mahal. Just Ian, with his boring ol' washboard abs and dime-a-dozen dimpled smile.
Just Ian is... just my best friend.
We're extremely close, stuck so deep inside a Jim-and-Pam-style friendzone everyone at works assumes we're a couple - that is until one day, word spreads through the teacher's lounge that he's single. Fair game. Suddenly, it's open season on Ian.
He should be reveling in all the newfound attention, but to our mutual surprise, the only attention he seems to want is mine.
He's turning our formerly innocent nightly chats into x-rated phone calls. Our playful banter sports a new, dangerous edge.
I want to assume he's playing a prank on me, just pushing my buttons like always - but when Ian lifts me onto the desk in my classroom and slides his hands up my skirt, he doesn't leave a lot of room for confusion.
I'm a little scared of things going south, of losing my best friend because I can't keep my hands to myself. So, I'm just going to back away and not return this earth-shattering kiss - oh who am I kidding?!
Goodbye Ian, ol' buddy, ol' pal!
Helloooo mister not so nice guy.
I am a huge fan of RS Grey and gobble up every new book she has as soon as it hits my kindle. I can rely on her books to make me laugh and I couldn't wait to pick up this book about two teachers who are best friends but want something more!
For the past three years, Sam has been in love with Ian. The only problem? They're best friends. Sam and Ian never go a day without seeing each other ever since they met during training for the high school where they both teach. So when Ian starts to say some not-so-platonic things to Sam, she's freaking out. Is he for real, or just playing with her? And if she gives in to the feelings she's harbored for years, can their friendship survive?
In the beginning of this book, I was obsessed with Sam and Ian's relationship. Since we get both of their points of view, we got to see how they both interpreted different situations and how they both really liked each other as more than friends, but didn't think the other reciprocated those feelings. Sam is such a hilarious and relatable character and, since I'm a high school English teacher myself, I loved reading about characters who were also teachers. Not to mention there were plenty laugh-out-loud moments in this book!
As we got to about 75% of the way through this book, though, things got a little too far fetched for me. Because of this, I felt a little detached from the romance compared to how obsessed I was with it at the beginning of this book. Their feelings didn't feel as genuine or believable anymore and it was harder for me to connect with their story.
Overall, if you want a fun romantic comedy, you can't go wrong with RS Grey. Not So Nice Guy is an adorable friends to lovers romance that, while a little far fetched at times, will definitely put a smile on your face.