Off the Grid (The Lost Platoon #2)
by Monica McCarty
Release Date: July 3, 2018
Source: Publisher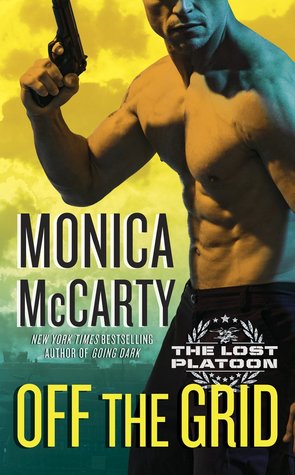 A hunt for dangerous secrets leads to explosive chemistry in this exhilarating romantic suspense novel from the New York Times bestselling author of Going Dark.

A team of Navy SEALs go on a mission and disappear without a trace--they are The Lost Platoon.

Investigative reporter Brittany Blake may have stumbled upon the story of a lifetime in her search for her missing brother. When he seemingly disappears overnight, she refuses to accept the Navy's less-than-satisfying explanation. She begins her own investigation, which leads her to top-secret SEAL teams, covert ops, and a possible cover up...

John Donovan is having trouble biding his time, waiting for his Commanding Officer to figure out who set up their platoon. John's best friend and BUD/S partner, Brandon Blake, was one of the many lives tragically lost in the attack against his team. When Brandon's sister, Brittany, tracks John down, looking for answers, he realizes that she may be their best bet--or bait--for finding out who is targeting SEAL Team Nine.
After reading Going Dark, I really loved the characters of this series and trying to uncover what really happened to the Lost Platoon that caused them to have to go into hiding. I was excited to read about another one of the SEAL members and watch him fall in love!
Brittany Blake has a gut feeling that her brother isn't okay, and as an investigative reporter, she's learned to trust her gut. The problem is, the more she digs into her brother's disappearance, the more danger she puts herself in. John Donovan swore to his best friend that he wouldn't hurt his sister, Brittany, but when she starts sticking her nose where it doesn't belong, John knows he has to do something to stop it, especially when she tracks John down to where he's hiding out. John has to distract Brittany from uncovering the government secret that's putting lives at danger, but the more he spends time with Brittany, the harder he finds it to keep his hands off of her.
From the moment this book started, I really enjoyed Brittany's character and how she's a different person from who she was when she shared a kiss with John years ago. Now, she's not putting up with his crap and she's finally sticking up for herself. I admired Brittany's determination as a writer and a sister to find out what really happened to her brother's SEAL team. It was fun watching John not know what to do with this new version of Brittany or with his feelings that were harder and harder to ignore.
While this is a romantic suspense story, I found that it was a little lacking in the action department. I loved how they traveled around together, but I think that the middle chunk of the book kind of dragged by as they were waiting to figure out who the real threat to Brittany and John were. Even then, we didn't really get any of the answers I wanted. I understand that this is a series and the author needs to keep us hooked for the next story in the series, but I wanted more answers!
Overall, I really did enjoy this romance and Brittany and John's relationship. While the pacing was a bit slow and I wanted more action, I enjoyed the mystery behind who really set the SEAL team up and who was after Brittany. For an entertaining romantic suspense series, I definitely recommend picking these books up!